DELL all in one PC with Touchscreen option - Ireland.
All in one PC's offer are a neater cable free option compared to more tradional desktop PC's. Rather than having a seperate monitor and tower, all in one PC's contain all components in one assembly. DELL's current offering in the all in one category is the Inspiron 2205 Desktop which can be supplied with or without a touchscreen depending on your requirements.
DELL all in one PC are simple to set up with just one chord to connect. The Inspiron 2205 features a 55 cm (21.5") WLED HD display allowing your to experience the stunning detail of the 1080p full HD screen. Available from DELL Ireland.

Check latest prices for DELL all in one PC's.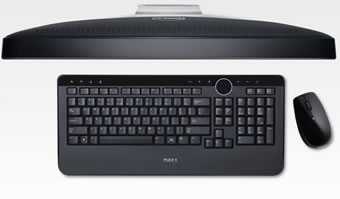 Inspiron 2205 All in one PC Features
Eliminate the need for a tower with the all-in-one design.
Wireless network card option
TV Tuner as option
Wireless keyboard and mouse
Touch panel option
Up to 4GB Memory
Extended warranty options available.
Credit card security:
DELL.ie ensure security of credit cards payments by encrypting the connection when transmitting information on the Internet.